A Fairytale Destination of Endless Wonders – Best Things To Do in Füssen, Germany!
Nestled in the heart of Bavaria, Germany, the enchanting town of Füssen beckons travelers with a magical blend of history, natural beauty, and cultural charm. Known as the gateway to the iconic Neuschwanstein Castle, Füssen is a destination with cobblestone streets, beautiful colorful buildings, and breathtaking Alpine vistas. Whether you're a history buff, an outdoor enthusiast, or simply seeking a tranquil escape, Füssen has something for everyone.
I personally enjoyed the beautiful view of Neuschwanstein Castle atop the snow-covered mountains. It really felt like I was in a fairytale; I just couldn't believe it. And to breathe in the fresh, crisp air was a fantastic feeling. It's not only a place of rich history and a plethora of activities, but also a place of healing.
From fairytale castles to serene lakes, from cultural heritage to outdoor adventures, Füssen has an array of experiences to offer. In this guide, we present the top must-do activities in Füssen, each promising to make your journey an unforgettable one.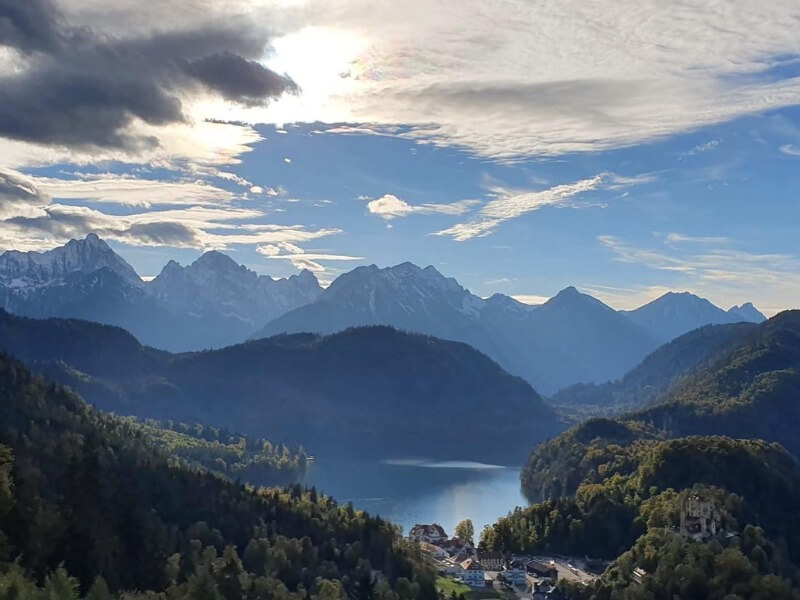 1. Visit Neuschwanstein Castle
This is an obvious one. No trip to Füssen is complete without exploring the fairytale-like Neuschwanstein Castle. Also known as the "Chitty Chitty Bang Bang Castle," it stands as a testament to the whimsical and romantic ideals of its creator, King Ludwig II of Bavaria. It also inspired Disney's Cinderella Castle, and I mean, how cool would it be to visit such an iconic landmark that inspired movies that we grew up with as children? Tickets are available to see the castle online or at the Ticket Center in Hohenschwangau. Booking tickets in advance is advisable, especially during the peak tourist season. Guided tours are available in multiple languages. Access to the castle's interior is only possible through guided tours.
2. Embark on an Alpaca Adventure in Füssen, Germany!
Prepare to be whisked away on a whimsical journey through the enchanting landscapes of Füssen, Germany, where your new fuzzy friends await! Walking with Alpacas in Lechbruck am See is an unforgettable experience. Imagine strolling alongside these gently, wooly companions as they lead you through meadows kissed by the Bavarian sun. We, unfortunately, didn't get a chance to do this in Füssen, but we've walked with Alpacas in other regions, and I must say, it is the cutest, funniest experience I've ever had. I couldn't stop smiling. This is just one area where you can walk with Alpacas; there are many more Alpaca farms around the Füssen area. 
3. Wander Through Füssen's Old Town
Stroll through the charming, cobbled streets of Füssen's Old Town, admiring well-preserved medieval buildings, colorful facades, quaint shops, and cozy cafes. This romantic little town is over 700 years old. Take a city tour through the old town of Füssen with your smartphone. Füssen offers you the service of a mobile phone city tour. At eleven stations you can discover history and stories from the past with your smartphone. On site, the stations are marked with an information board with the mobile phone symbol and a phone number.
4. Discover Nature's Wonders at the Ziegelwies Forest Experience Center in Füssen, Germany
Discover an unforgettable journey through an amazing park where the beauty of the wilderness comes alive. A place for people who are avid adventurers, hikers, and climbers. The park is family-friendly, suitable for groups and children, and features outdoor seating when one needs to take a quick rest. If you're yearning for your next great hiking expedition or simply for the tranquility of nature, then Forest Experience Center Ziegelwies promises a world of natural wonder and adventure.
5. Discover the Hidden Jewels of Füssen: Alatsee and Hopfensee
Nestled amidst the Bavarian wilderness, Alatsee is enchanted with its crystalline waters and densely forested surroundings. But it's not just its beauty that captivates; it's the whispers of history and mystery that swirl around this pristine lake. Legend has it that Hitler's gold may be hidden beneath its depths. Many divers have died or disappeared mysteriously in this lake due to the toxicity of the organisms living in this lake. While the Alatsee holds an intriguing mystery, the Hopfensee is a tranquil haven where the serene waters mirror the towering Alpine peaks. Whether you're into hiking, biking, or simply basking in the serenity, Hopfensee promises an escape into nature's embrace. Both lakes are terrific for natural beauty and offer an unforgettable journey into the heart of Bavaria's natural wonders.
6. Journey Through Time: The Museum of Füssen
Nestled within the charming townscapes of Füssen, Germany, the museum of Füssen stands as a captivating portal to the rich tapestry of history, culture, and art that has shaped this enchanting town. The Museum of Füssen is located in the southwest wing of the former Benedictine monastery of St. Mang, which is also featured in this list. The former monastery was built in the early 18th century and houses valuable works of art and archaeological finds from the over 1000-year history of this former abbey. Beyond history, the museum celebrates the artistic prowess of Füssen's inhabitants. It showcases creativity with masterpieces and innovations that have left an indelible mark on the town's cultural landscape.
7. Basilika St. Mang: A Testament to Faith and History in Füssen, Germany
As mentioned above, the Basilika St. Mang was once a Benedictine monastery. It was founded in the 9th century and dissolved during the post-Napoleonic secularization of Bavaria. It's an architectural jewel with its stunning Baroque architecture, grand façade, and intricate details; it's definitely an integral part of Füssen's identity. The basilica also houses a treasure trove of historical artifacts and documents narrating Füssen's past story. It is a living museum where the town's history is preserved within the very walls of this sacred structure. 
8. Church of the Holy Spirit: A Spiritual Beacon in the Heart of Füssen, Germany
The church of the Holy Spirit stands as a luminous symbol of faith, history, and architectural grandeur. Located at the corner of Spitalgasse and Lechhalde, the church features an exquisite architectural design, a harmonious blend of Gothic and Baroque styles. The interior of the Church of the Holy Spirit is adorned with masterful artwork, splendid frescoes, and a captivating altar. It serves as a sanctuary for those in need of healing and reflection, offering solace to both locals and visitors seeking spiritual nourishment. The Church of the Holy Spirit is a testament to the enduring connection between faith and culture, where the past and the present harmoniously coexist.
9. Kalvarienberg, Füssen: A Journey of Spiritual Reflection and Natural Beauty
Kalvarienberg offers a unique and spiritually enriching experience amidst a backdrop of stunning natural beauty. It is often referred to as the Calvary Hill and it is a sacred site that has been a destination for pilgrimage and reflection for centuries. It is home to a pilgrimage church, a series of beautifully crafted Stations of the Cross, and a poignant depiction of the crucifixion of Jesus Christ. Beyond its spiritual significance, Kalvarienberg offers a beautiful scenic journey, with lush greenery, and serene walking paths. It really is a place of wonder and tranquility.
10. Lechfall, Füssen: Where Nature's Majesty Unfolds
In the 18th century, Lechfall was built as a means of flood control, so even though Lechfall is not a natural waterfall, it still stands as a testament to a beautiful and mesmerizing waterfall that captivates all who witness it. The surrounding landscape, adorned with lush greenery, provides a perfect setting for tranquil walks. Lechfall is a hiker's paradise. It offers the opportunity to immerse yourself in the Bavarian wilderness. 
11. Soar Like a Bird Amidst Alpine Splendor
Get ready for an adventure of a lifetime! If you're an adrenaline junkie or simply seeking a unique way to experience the beauty of Füssen, paragliding with Fly Royal is an adventure you'll cherish forever. Fly Royal is a local outdoor activity organizer located in Schwangau, next to Füssen, Germany, and Breitenberg Mountain. You can easily book tandem flights online with a professional paraglider at Tegelberg Mountain (Neuschwanstein Castle). They offer three different types of flights: early bird, classic, and royal. I mean, how cool would it be to literally fly over one of the most iconic castles in the world!! People from all over the world travel to Füssen, Germany, just for this experience.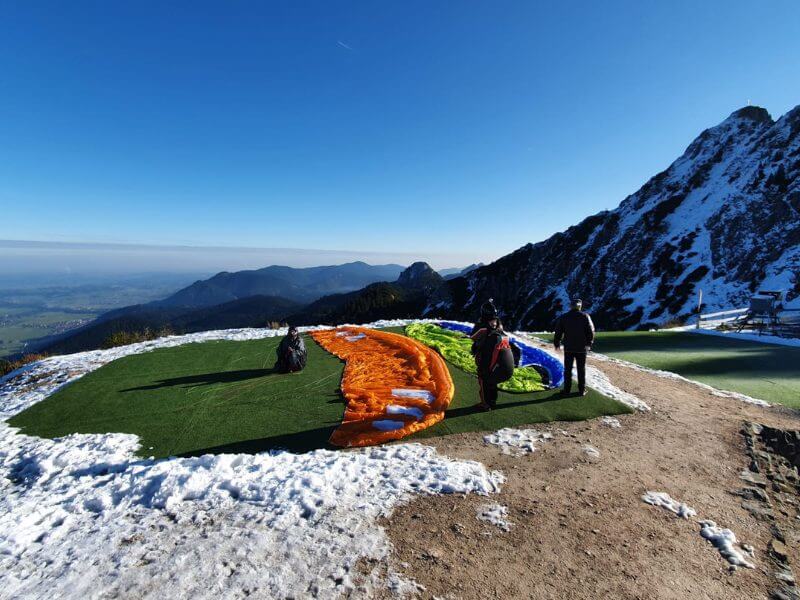 And we can't forget to mention the Tegelberg Cable Car. The Tegelberg Cable Car serves as your gateway to the heights of Tegelberg Mountain, where panoramic views and thrilling outdoor adventures await. The cable car is 2,146 meters long and climbs a height of 892 meters. As one of the region's top attractions, the cable car offers a convenient and scenic ascent to the Bavarian Alps. Upon reaching the summit, you'll discover a world of outdoor activities. Hiking trails beckon, inviting you to explore the pristine landscapes and revel in the serenity of the mountains. And as mentioned above, you can take part in an adventurous experience of paragliding off this beautiful mountain. After your Alpine adventures, visit the Panorama restaurant, where you can savor traditional Bavarian cuisine while gazing at the stunning views from the terrace. The restaurant sits at 1730 m above sea level and I must say, this was one of the most magical experiences I've ever had. Sitting atop such a beautiful mountain was so peaceful and calm; I could have stayed there for hours! Besides visiting the Neuschwanstein Castle, I 100% recommend doing this when visiting Füssen, Germany. You're missing out if you don't.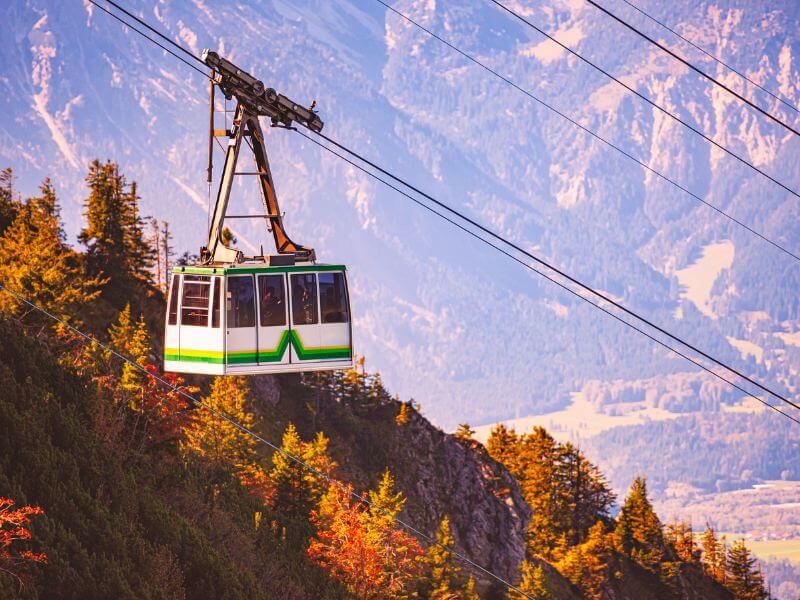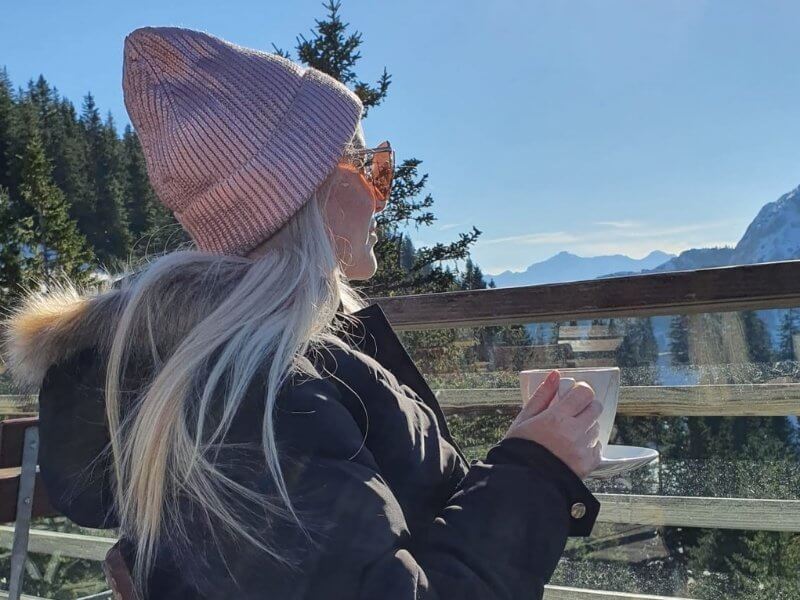 Füssen, Germany, is a destination that effortlessly weaves together history, fairy tales, and breathtaking landscapes, making it truly worth visiting. As we conclude our exploration of this enchanting town, it becomes abundantly clear why Füssen holds a special place in the hearts of travelers worldwide. Its historical charm, natural beauty, adventure, and tranquility will forever leave an indelible mark on your travel memories. 
Editor: Hi! I'm Allie, and welcome to my travel blog. Born and raised in Texas and moved to Germany 8 years ago on a quest for self-discovery. Follow me on this great adventure as I'll be your trusted travel guide, sharing my experiences, insights, and tips from my journeys around the globe.